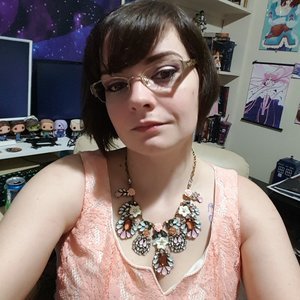 Desdymona
Special guest
Desdymona is a teacher by day and a person with too many hobbies by night. She is an artist and cosplayer, and all around podcast enthusiast. She holds such titles as Loremaster of Sirenicide, Igor Mastermind/ Web Designer for The Mad Scientist, The Great Desdymona for Our Strange Skies, Voice Actress for Whispers in the Night, and the Co-Creator of the upcoming Horror Comedy Podcast Calling Darkness. She has a Bachelor's in English Literature and a Masters of Education in Instructional Leadership Technology.
Desdymona has been a guest on 1 episode.
June 20th, 2018 | 1 hr 11 mins

adobe, alien, art, bacteria, creepy pasta, ghosts, microphones, podcasting, surface, tablets, ufos, voice

This week, Brian and Angelo welcome Desdymona to the podcast to talk about her love of podcasts, creating digital art, voiceover work, and working on her upcoming podcast Calling Darkness. They then settle in for a discussion on the paranormal, discussing where Desdymona's interest in all things strange comes from, coming from a ghost-positive household, and what makes a great creepy pasta.