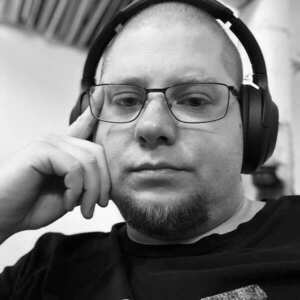 Rob Kristoffersen
Special guest
Rob is the host of the Our Strange Skies podcast, and has been a paranormal investigator/UFO researcher for the last ten years. His enthusiasm for high strangeness comes from a childhood love of The Real Ghostbusters cartoon series, and the trauma inflicted upon him by watching Unsolved Mysteries at a very young age. He has a complicated relationship with Apple products.
Rob Kristoffersen has been a guest on 3 episodes.
January 2nd, 2019 | 1 hr 23 mins

apple, flying saucers, nintendo, smash brothers, stardew valley, tech, tts, uaps, ufos

Brian and Angelo ring in the New Year with their friends Sam and Rob.

January 17th, 2018 | 1 hr 45 mins

apple, apple music, backmasking, blues, crossroads, ipods, itunes, jim sullivan, music, podcasting, robert johnson, rock, satan, satanism, spotify, taylor swift, ufos

This week, Brian and Angelo have UFO expert Rob Kristofferson on the show to talk about his two favorite things: music and UFOs. Rob provides some updates on his podcasting setup before they delve into the world of how music consumption has changed in the past few decades. Moving into the paranormal, they take a look at how the paranormal found its way into popular music, with a closer look at Robert Johnson, Jim Sullivan, and satanism & backmasking in music.

October 11th, 2017 | 1 hr 5 mins

apple, evps, laptops, men in black, paranormal, smartphones, tech, ufos

This week, Brian and Angelo welcome Rob Kristoffersen (@YerUFOGuy) to the show to discuss his podcast setup, his issue with Apple products, smartphones, and old video games. Then, the topics shift to Rob's area of expertise with a look at the history of the Men in Black.